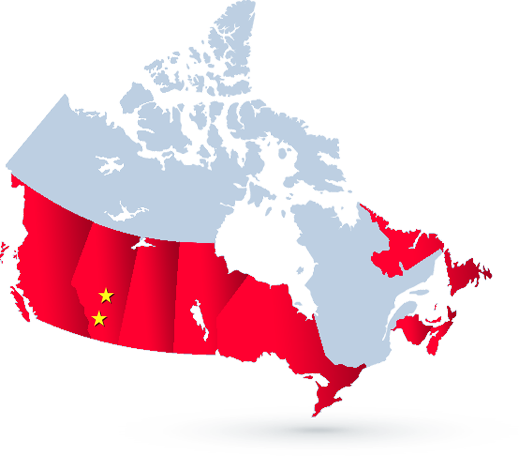 Services Available in the Following Provinces
Tax Ninja | Tax Law ("TNTL") has offices in Edmonton and Calgary. Tax Counsel at TNTL maintain membership with the Law Society of Alberta. Any legal services provided in British Columbia, Saskatchewan, Manitoba, Ontario, Newfoundland & Labrador, New Brunswick, Nova Scotia, and Prince Edward Island are provided as a "visiting lawyer" pursuant to the National Mobility Agreement of the Federation of the Law Societies of Canada.
Tax Counsel at TNTL do not currently practice in the Yukon, Northwest Territories or Nunavut. However, contact us if you have a tax problem in the Territories as temporary or permanent permits can be obtained which may allow TNTL to assist you with your Territorial tax issue.
TNTL does not currently offer its services to the Province of Quebec..
Why Choose a TaxNinja.ca Lawyer?
Although tax accountants and tax lawyers provide some similar services, there is one important characteristic which distinguishes your relationship with your tax lawyer from your tax accountant: Legal Privilege.
Legal Privilege protects all communications between a lawyer and his client for the purpose of providing legal advice. Those communications between you and your tax lawyer cannot be disclosed to the Canada Revenue Agency without your consent. This means that that you can communicate with us in confidence that it will never be seen by the Canada Revenue Agency. Legal Privilege also protects our review and analysis of your particular tax issue, which allows us to present a number of different options to you on a completely confidential basis.
In addition to our wealth of experience, the protection offered by legal privilege is one reason why you should choose a TaxNinja.ca lawyer as your trusted tax advisor.
Chad has been licensed to practice law since 2001. The first eight years of Chad's practice he was employed by a large regional law firm practicing in many areas including corporate commercial litigation, collections, debtor-creditor law, bankruptcy and tax. Between 2008 and 2015 Chad was employed by a boutique law firm whose practice was restricted solely to taxation. During that time he developed a passion for representing Canadian taxpayers.
More About Us